 The Trump family is distancing itself from a January 21 fundraising event after press reports that attendees could get a meeting with President Donald Trump for $1 million.
The "Opening Day" event, scheduled for the day after Trump's inauguration, is being put on by a foundation devoted to conservation and associated with Donald Trump Jr. and Eric Trump.
A document filed with the state of Texas lists the two sons as "initial" directors of the Opening Day Foundation, the organization behind the event.
Details about the event first surfaced last Friday on TMZ. The entertainment site posted what it called a "draft" of an invitation.
The pamphlet advertised a "private reception" with Donald Trump, as well as a multi-day hunting trip with Donald Jr. and Eric Trump, for sponsors who picked the $500,000 "Grizzly Bear" package or $1 million "Bald Eagle" package.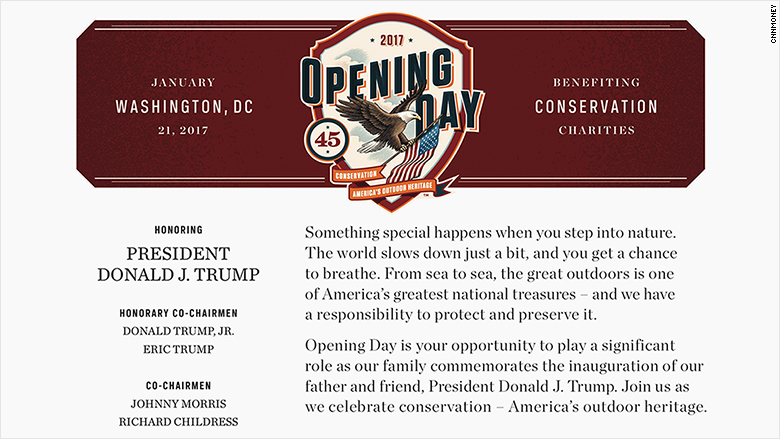 In a statement Tuesday, the Trump transition team said details about the event that have been reported "are merely initial concepts that have not been approved or pursued by the Trump family."
"Donald Trump Jr. and Eric Trump are avid outdoorsmen and supporters of conservation efforts, which align with the goals of this event, however they…