Even though holiday decorating is finished for the year, you can still get outside and clip greenery for a bird-friendly winter container. Winter birds are a lovely addition to the garden and this container garden not only looks gorgeous to us, but it's a heavenly treat for our feathered friends! Not only will this design will take your garden decor right through to the spring, it will also provide food for winter birds to snack on.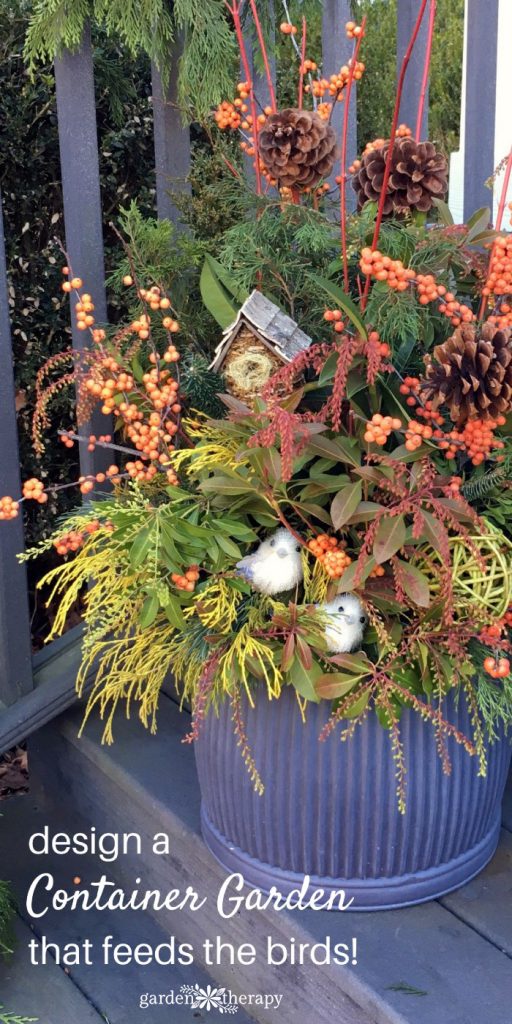 I happened to come across Marie's Garden on Instagram and I fell in love with her creative holiday wreaths and containers. Container design can be easy to do, but a talented designer can create one that makes you stop and take notice. I asked Marie if she would like to create a container design for us at Garden Therapy and, to my delight, she agreed! I'll hand it over to Marie now, to show us how to recreate her bird-friendly winter container.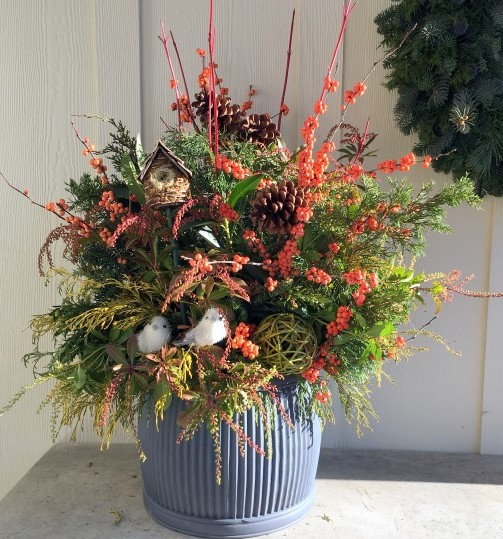 by Marie Meiklejohn
As soon as the holidays are over and all the decorations are put away, I very quickly tire of looking at the bare trees and empty containers around my home. My solution is to design a few containers with greenery from my yard that can be seen from my windows. It helps to keep my spirits up during the cold winter months and these containers will look great until early April in my Pennsylvania garden. By then, I am ready to clean them out and plant some pansies and other cold weather spring plants.
Some of my favorite materials to cut are Red Twig Dogwood branches, yellow Chamaecyparis, Holly, White Pine, Juniper, Laurel, Japanese Pieris and Blue Spruce. Sometimes I add a few branches of dried Hydrangea flowers or Winterberry for seasonal interest and a pop of color. Don't feel intimated by a bunch of different greenery, just give it a try! Have a look at what you can use in this article on the Best Garden Greenery for Holiday Decorating (and Which Ones to Avoid).
Materials
Container for winter use
Soil
Other interesting materials such as berry branches, dried flowers, ornamental grass plumes, and colorful branches
Ornamental decorations such as a birdhouse or birds
Make it!
Look for greenery with different textures and colors. This…