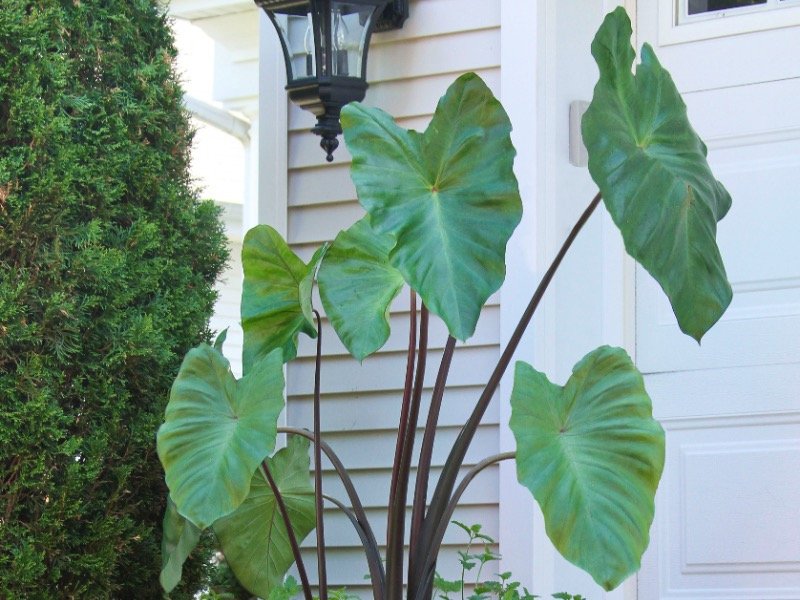 Add an exciting new look to your garden, poolside, patio or deck with elephant ears. These easy tropical plants have tall stems and giant leaves that measure up to two feet across. You can use them to create an instant focal point in the garden, screen an unwanted view or extend a bold welcome at the front door.
Elephant ears can be grown in containers as well as the garden, so if space is an issue, try some of the more compact varieties like Hawaiian Punch. You'll appreciate the impact this three-foot tall plant makes with its red stems and bright green leaves with dark red veining.
Or go big with six-foot tall Black Stem. Its smooth blue-green leaves are displayed atop striking purple-black stems. Variegated varieties are another option. The unusual foliage of Mojito is decorated with blue-black dashes and splashes. No two leaves are alike on this beauty. For even more color and drama, don't miss Black Magic. Its dark, blue-black leaves measure two feet across and can grow up to five feet tall.
These are just a few of the many varieties that are well suited to home gardens. In warm areas (zones 9 to 11) elephant ears can be grown outdoors year-round. In cooler areas (zones 4-8) the plants are grown as annuals or can be brought indoors…