It is helpful to be able to be equipped with several items at once when you are gardening, as you may want to use pruners, seed packets, hand tools, and other supplies in quick succession. This cheery and functional garden apron keeps your tools and other small gardening necessities at your fingertips and adds a bright pop of color to your gardening outfit.
There's no reason why you couldn't make it in a plain neutral color if you'd prefer, but I personally like to have a burst of color to distract from the dirt that's inevitably all over me when I am working in the garden.

This apron has large, deep pockets so you can fill them with seed packets, plant labels, and various tools. It is nice and wide so that you can stuff the side pockets with all sorts of things and still bend over to dig without getting stabbed in the belly by a weeding fork (!).
I also made a loop to hold my pruners off to the side so I can draw them quickly when encountering a sudden showdown with unruly branches. I like my waist ties to be extra long so that they tie in the front with lots of room to make a pretty bow, but you can alter the length to your preference.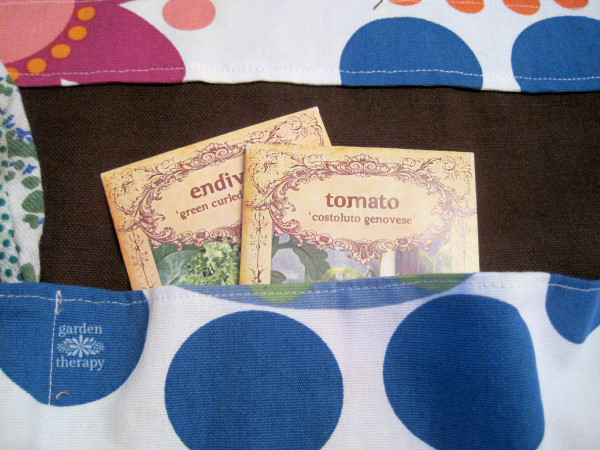 Here's how to make your own.
Materials:
Sturdy-weight fabric: plain for apron back, pattern for pockets, waistband, and sash, cut as follows:
1 – 20" x 14″ plain color fabric for apron back
1 – 23" x 10" patterned fabric for apron pockets
1 – 20" x 4" patterned fabric for waistband
2 – 42" x 4" patterned fabric for long, wraparound sashes
Make it!
1. Cut all fabric to the dimensions listed to make a ladies' large apron. Adjust…