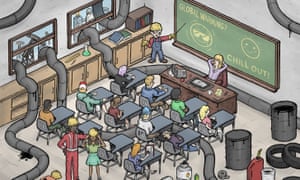 This story was a collaboration between the Center for Public Integrity and StateImpact Oklahoma, a reporting project of NPR member stations in Oklahoma.
Jennifer Merritt's first graders at Jefferson elementary school in Pryor, Oklahoma, were in for a treat. Sitting cross-legged on the floor, the students gathered for story time with two special guests, Republican lawmakers Tom Gann and Marty Quinn.
Dressed in suits, the two men read aloud from "Petro Pete's Big Bad Dream," a parable in which a Bob the Builder-lookalike awakens to find his toothbrush, hard hat and even the tires on his bike missing.
Abandoned by the school bus, Pete walks to Petroville elementary in his pajamas.
"It sounds like you're missing all of your petroleum by-products today!" Pete's teacher, Mrs Rigwell, exclaims, extolling oil's benefits to Pete and fellow students like Sammy Shale. Before long, Pete decides that "having no petroleum is like a nightmare!"
The tale is the latest in an illustrated series by the Oklahoma Energy Resources Board, a state agency funded by oil and gas producers. The board has spent upwards of $40m over the past two decades on providing education with a pro-industry bent, including hundreds of pages of curriculums, a speaker series and an after-school program – all at no cost to educators of children from kindergarten to high school.
A similar program in Ohio shows teachers how to "frack" Twinkies using straws to pump for cream to emulate shale drilling. A national program sponsored by companies including BP and Shell claims it's too soon to tell if the earth is heating up, but "a little warming might be a good thing".
Decades of documents reviewed by the Center for Public Integrity reveal a tightly woven network of organizations that works in concert with the oil and gas industry to paint a rosy picture of fossil fuels in America's classrooms. Led by advertising and public-relations strategists, the groups have long plied the tools of their trade on impressionable children and teachers desperate for resources.
Proponents of programs like the one in Oklahoma say they help the oil and gas industry replenish its aging workforce by stirring early interest in science, technology, engineering and math. But some experts question the educational value and ethics of lessons touting an industry that plays a central role in climate change and air pollution.
Anthony Leiserowitz, director of the Yale Program on Climate Change Communication, likened industry-sponsored curriculums that ignore climate science to advertising. "You're exploiting that trusted relationship between the student and the teacher," he said. Leiserowitz – whose research has focused on how culture, politics and psychology impact public perception of the environment – said fossil-fuel companies have a stake in perpetuating a message of oil dependency.
As early as the 1940s, the industry's largest and most powerful lobby group targeted schoolchildren as a key element of its fledgling marketing strategy. By the 1960s, the American Petroleum Institute was looking to shake its reputation as a "monopoly which reaped excessive profits" and set out to cultivate a network of "thought leaders" that included educators, journalists, politicians and even clergy, according to an organizational history copyrighted by API in 1990.
The idea caught on. Hundreds of oil-and-gas-centric lesson plans are now available online, walking a blurry line between corporate sponsorship and promotion at a time when climate science has increasingly come under siege at the highest levels of government.
On 1 June, Donald Trump, flanked by EPA administrator – and former Oklahoma attorney general – Scott Pruitt, announced that the United States would withdraw from the Paris climate agreement.
Oklahoma is among a dozen states that have opted for watered-down versions of Next Generation Science Standards, a joint effort by states and educational organizations to revamp science teaching that has met with political backlash since 2013. The Oklahoma version strips provisions on evolution and the human causes of global warming. Along with Colorado, Kansas and Montana, Oklahoma legislators have also championed bills requiring educators teach "both sides" of those scientific concepts.
A 2016 study confirmed that America's youth receive "mixed messages" on climate change. Nearly a third of middle-and-high-school science teachers nationwide have wrongly suggested global warming is naturally occurring. A quarter have spent as much time rebutting evidence of warming as they have presenting it.
Schools and libraries across Oklahoma have received more than 9,000 complimentary copies of Petro Pete's Big Bad Dream since it was published last year. The story has been a hit with Jennifer Merritt's students, who won the storytelling visit from lawmakers last November after submitting a Facebook photo to the energy resources board. Posing on a jungle gym, the students clutched stuffed animals and footballs – their "favorite petroleum by-products".
"It's not some boring…