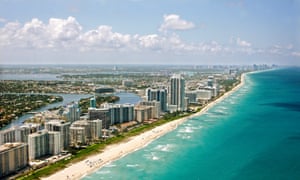 Wholly unintentionally, Donald Trump may have sparked unprecedented determination within the US to confront the danger of climate change.
Following Trump's decision to withdraw the US from the Paris climate accord, the president was assailed by businesses ranging from Facebook to Goldman Sachs for risking America's economic and environmental standing. The White House was choked by phone calls from irate voters.
Perhaps most significantly, a coalition of lawmakers, companies and universities swung into action in an attempt to reassure the world that the US wasn't completely abandoning the field.
Within this group committing itself to the Paris targets are 17 governors – two of them Republicans – and 125 cities, including New York City, Los Angeles and Pittsburgh, which was cited, somewhat mistakenly, by Trump as somewhere that would benefit from exiting the Paris agreement.
With the federal government casting off the task of emissions reduction, the onus is now on cities and states to make up the shortfall. We look at what four major US cities – New York City, Houston, Miami and San Francisco – are doing to stave off the threat of climate change.
New York City
Outrage over the president's move to pull the US out of the Paris accord went far and wide, but Bill de Blasio, New York City's mayor, seemed to take particular offense that one of the city's own had done such a thing.
"This is a dagger aimed straight at the heart of New York City," De Blasio said, raising the specter of rising seas and storms bearing down on Manhattan and Brooklyn. "We have to understand that if climate change is not addressed, one of the greatest coastal cities on the earth will be increasingly threatened. It's very painful to reflect the fact that Donald Trump is from New York City. He should know better."
To add to De Blasio's distress, the mayor then had to field questions over what sort of example he was setting by being driven almost every day from Gracie Mansion, on the upper east side of Manhattan, to a gym 12 miles away in Brooklyn. De Blasio said his own environmental efforts are focused on recycling and composting, adding he wouldn't be drawn into the "cheap symbolism" of using public transport.
But no matter how green-tinged the mayor's own personal habits are, New York City has positioned itself, along with California, as the main bulwark against Trump's demolition of climate change action at home and abroad. Having already promised to cut emissions 80% by 2050, De Blasio signed an order committing the city to the goals of the Paris agreement, including its most ambitious target – a warming limit of 1.5C (2.7F) beyond the pre-industrial era.
New York City has already earmarked billions of dollars to retrofit 1m buildings to make them more energy efficient, electrify its municipal vehicle fleet, plant thousands of trees and coat rooftops in solar panels.
The city is coming off a promising base: half of New York City residents don't own a car and while energy use still results in nearly 50m tons of greenhouse gases, average household electricity consumption is well below the national average. There's palpable concern about climate change too – in surveys, three-quarters of residents say they are worried about climate change, with more than 80% wanting carbon dioxide to be regulated.
New York's clout has been touted by Michael Bloomberg, its former mayor, who has helped corral a national coalition of cities and states to fill the void left by the federal government's exit from climate policy and concern. Bloomberg, who recently stumped up millions of dollars for the UN climate secretariat, has said: "We are already halfway there – and we can accelerate our progress further, even without any support from Washington."
Still, even if California and New York state halve their emissions, the US would not make Barack Obama's Paris goal of reducing emissions by at least 26% by 2025. In this light, New York City's adoption of the 1.5C goal – considered a long shot at the time of the agreement in 2015 and now entering the realm of impossibility – appears to be a defiant flourish rather than sober expectation.
"1.5C was the stretch target at Paris. It's a very aggressive goal, which is perhaps the most charitable way to put it," said Daniel Zarrilli, senior director of New York City's climate policy. "But we are already at risk and it's important to set high targets to head off the worst consequences of climate change. Others need to see what New York City is doing and make the same accelerations. We need to do more and we need to do it faster."
According to Zarrilli, heat exposure is already the biggest killer of New York City residents in terms of natural hazards – and then there's the looming issue of rising seas, which are on course to increase around the city by up to 2ft by 2050 and 6ft by 2100.
Without a sharp reversal in emissions, parts of lower Manhattan and Brooklyn face being consumed by the sea, with the city's two low-lying airports, La Guardia and JFK, expected to have water sloshing around the runways by the end of the century.
More than $20bn has been set aside for defenses to this threat, but some critics argue that as much effort and money should be spent on overhauling the city's existing creaking infrastructure. The subway system is under strain, with delayed signal work causing huge delays and much angst (the New York Times recently compared it unfavorably to the London Underground).
The state is responsible for New York City's transport system, and Governor Andrew Cuomo, while praised by environmentalists for his own efforts to expand renewable energy, has been accused of favoring flashy new projects rather than fixing the nuts and bolts of public transit.
"Our carbon footprint is a lot smaller than it could be because we move around millions of people on public transport rather than car, but mass transit is often overlooked," said Lara Skinner, associate director of the Worker Institute at Cornell University.
"A lot of attention is given to technological fixes rather than what is right in front of us. A massive improvement and expansion of public transport…