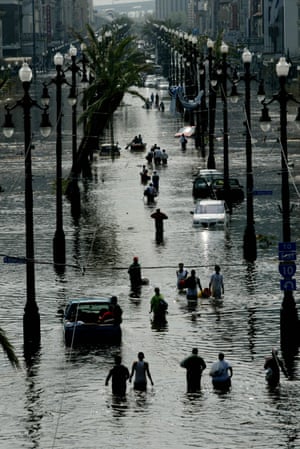 here have been times in my reporting from disaster zones when I have had the unsettling feeling that I was seeing not just a crisis in the here and now, but getting a glimpse of the future – a preview of where the road we are all on is headed, unless we somehow grab the wheel and swerve. When I listen to Donald Trump speak, with his obvious relish in creating an atmosphere of chaos and destabilisation, I often think: I've seen this before, in those strange moments when portals seemed to open up into our collective future.
One of those moments arrived in New Orleans after Hurricane Katrina, as I watched hordes of private military contractors descend on the flooded city to find ways to profit from the disaster, even as thousands of the city's residents, abandoned by their government, were treated like dangerous criminals just for trying to survive.
I started to notice the same tactics in disaster zones around the world. I used the term "shock doctrine" to describe the brutal tactic of using the public's disorientation following a collective shock – wars, coups, terrorist attacks, market crashes or natural disasters – to push through radical pro-corporate measures, often called "shock therapy". Though Trump breaks the mould in some ways, his shock tactics do follow a script, and one that is familiar from other countries that have had rapid changes imposed under the cover of crisis.
This strategy has been a silent partner to the imposition of neoliberalism for more than 40 years. Shock tactics follow a clear pattern: wait for a crisis (or even, in some instances, as in Chile or Russia, help foment one), declare a moment of what is sometimes called "extraordinary politics", suspend some or all democratic norms – and then ram the corporate wishlist through as quickly as possible. The research showed that virtually any tumultuous situation, if framed with sufficient hysteria by political leaders, could serve this softening-up function. It could be an event as radical as a military coup, but the economic shock of a market or budget crisis would also do the trick. Amid hyperinflation or a banking collapse, for instance, the country's governing elites were frequently able to sell a panicked population on the necessity for attacks on social protections, or enormous bailouts to prop up the financial private sector – because the alternative, they claimed, was outright economic apocalypse.
The Republicans under Donald Trump are already seizing the atmosphere of constant crisis that surrounds this presidency to push through as many unpopular, pro-corporate policies. And we know they would move much further and faster given an even bigger external shock. We know this because senior members of Trump's team have been at the heart of some of the most egregious examples of the shock doctrine in recent memory.
Rex Tillerson, the US secretary of state, has built his career in large part around taking advantage of the profitability of war and instability. ExxonMobil profited more than any oil major from the increase in the price of oil that was the result of the 2003 invasion of Iraq. It also directly exploited the Iraq war to defy US state department advice and make an exploration deal in Iraqi Kurdistan, a move that, because it sidelined Iraq's central government, could well have sparked a full-blown civil war, and certainly did contribute to internal conflict.
As CEO of ExxonMobil, Tillerson profited from disaster in other ways as well. As an executive at the fossil fuel giant, he spent his career working for a company that, despite its own scientists' research into the reality of human-caused climate change, decided to fund and spread misinformation and junk climate science. All the while, according to an LA Times investigation, ExxonMobil (both before and after Exxon and Mobil merged) worked diligently to figure out how to further profit from and protect itself against the very crisis on which it was casting doubt. It did so by exploring drilling in the Arctic (which was melting, thanks to climate change), redesigning a natural gas pipeline in the North Sea to accommodate rising sea levels and supercharged storms, and doing the same for a new rig off the coast of Nova Scotia.
At a public event in 2012, Tillerson acknowledged that climate change was happening – but what he said next was revealing: "as a species", humans have always adapted. "So we will adapt to this. Changes to weather patterns that move crop production areas around – we'll adapt to that."
He's quite right: humans do adapt when their land ceases to produce food. The way humans adapt is by moving. They leave their homes and look for places to live where they can feed themselves and their families. But, as Tillerson well knows, we do not live at a time when countries gladly open their borders to hungry and desperate people. In fact, he now works for a president who has painted refugees from Syria – a country where drought was an accelerant of the tensions that led to civil war – as Trojan horses for terrorism. A president who introduced a travel ban that has gone a long way towards barring Syrian migrants from entering the United States.
A president who has said about Syrian children seeking asylum, "I can look in their faces and say: 'You can't come.'" A president who has not budged from that position even after he ordered missile strikes on Syria, supposedly moved by the horrifying impacts of a chemical weapon attack on Syrian children and "beautiful babies". (But not moved enough to welcome them and their parents.) A president who has announced plans to turn the tracking, surveillance, incarceration and deportation of immigrants into a defining feature of his administration.
Waiting in the wings, biding their time, are plenty of other members of the Trump team who have deep skills in profiting from all of that.
etween election day and the end of Trump's first month in office, the stocks of the two largest private prison companies in the US, CoreCivic (formerly the Corrections Corporation of America) and the Geo Group, doubled, soaring by 140% and 98%, respectively. And why not? Just as Exxon learned to profit from climate change, these companies are part of the sprawling industry of private prisons, private security and private surveillance that sees wars and migration – both very often linked to climate stresses – as exciting and expanding market opportunities. In the US, the Immigration and Customs Enforcement agency (Ice) incarcerates up to 34,000 immigrants thought to be in the country illegally on any given day, and 73% of them are held in private prisons. Little wonder, then, that these companies' stocks soared on Trump's election. And soon they had even more reasons to celebrate: one of the first things Trump's new attorney general, Jeff Sessions, did was rescind the Obama administration's decision to move away from for-profit jails for the general prison population.
Trump appointed as deputy defence secretary Patrick Shanahan, a top executive at Boeing who, at one point, was responsible for selling costly hardware to the US military, including Apache and Chinook helicopters. He also oversaw Boeing's ballistic missile defence programme – a part of the operation that stands to profit enormously if international tensions continue to escalate under Trump.
And this is part of a much larger trend. As Lee Fang reported in the Intercept in March 2017, "President Donald Trump has weaponised the revolving door by appointing defence contractors and lobbyists to key government positions as he seeks to rapidly expand the military budget and homeland security programmes … At least 15 officials with financial ties to defence contractors have been either nominated or appointed so far."
The revolving door is nothing new, of course. Retired military brass reliably take up jobs and contracts with weapons companies. What's new is the number of generals with lucrative ties to military contractors whom Trump has appointed to cabinet posts with the power to allocate funds – including those stemming from his plan to increase spending on the military, the Pentagon and the Department of Homeland Security by more than $80bn in just one year.
The other thing that has changed is the size of the Homeland Security and surveillance industry. This sector grew exponentially after the September 11 attacks, when the Bush administration announced it was embarking on a never-ending "war on terror", and that everything that could be outsourced would be. New firms with tinted windows sprouted up like malevolent mushrooms around suburban Virginia, outside Washington DC, and existing ones, such as Booz Allen Hamilton, expanded into brand new territories. Writing in Slate in 2005, Daniel Gross captured the mood of what many called the security bubble: "Homeland security may have just reached the stage that internet investing hit in 1997. Back then, all you needed to do was put an 'e' in front of your company name and your IPO would rocket. Now you can do the same with 'fortress'."
That means many of Trump's appointees come from firms that specialise in functions that, not so long ago, it would have been unthinkable to outsource. His National Security Council chief of staff, for instance, is retired Lt Gen Keith Kellogg. Among the many jobs Kellogg has had with security contractors since going private was one with Cubic Defense.
According to the company, he led "our ground combat training business and focus[ed] on expanding the company's worldwide customer base". If you think "combat training" is something armies used to do all on their own, you'd be right.
One noticeable thing about Trump's contractor appointees is how many of them come from firms that did not even exist before 9/11: L-1 Identity Solutions (specialising in biometrics), the Chertoff Group (founded by George W Bush's homeland security director Michael Chertoff), Palantir Technologies (a surveillance/big data firm cofounded by…