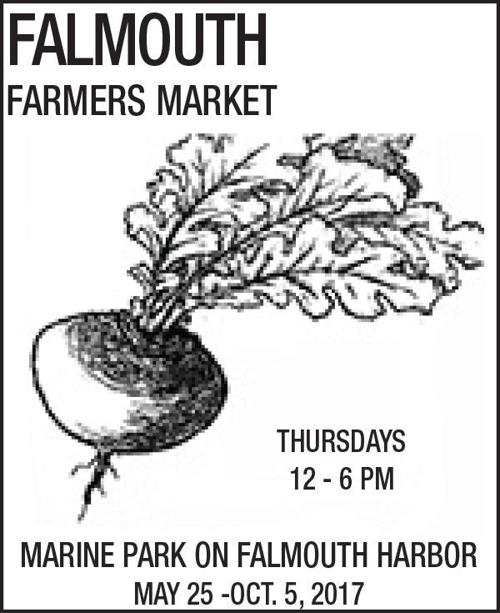 The tomatoes are here! It seems like forever that we have been waiting for amazing heirlooms, multi-colored red, green, yellow and even purple varieties of the mouth-watering, juicy late summer fruit. What will you make with tomatoes this week? Something classic and long awaited or something new and exciting? The options are endless with this versatile crop: puréed cold or hot soups, quick pasta sauces, sliced into salads with fresh herbs and local cheeses, or even a mile-high sandwich. You can cut them into wedges and dip them in some homemade vegan hummus to accompany a glass of local wine or just shop around the market popping the cherry-size ones into your mouth as you browse. No matter your choices for serving tomatoes, you can find everything you need for a palate-pleasing spread at the Falmouth Farmers Market.
Welcome, Sippewissett Oysters! Get your local oysters by the dozen to enjoy. You can also purchase T-shirts, coolers and insulated bags that show your support for this endeavor that is part of the shellfish cooperative.
All sorts of potatoes—New Orleans Dark Red, Red Bliss, Yukon Gem, Red Gold, Adirondack Red and Satina—as well as handmade wooden vegetable bins and birdhouses from Freshfield Farm.
Get fresh garlic, jalapeño peppers, onions, curly kale, mini-sunflowers, big bunches of assorted herbs, heirloom tomatoes, as well as fresh eggs from Pariah Dog Farm.
Fromage a Trois offers freshly made mozzarella and burrata cheeses. Award-winning handmade pastas including five-cheese ravioli, stuffed shells made with a variety of fresh vegetable fillings as well as angel hair, chitara and fettucine.
Carberry Kitchen has dog treats your four-legged friend with love. Fido will beg for a package of the extra-healthy Salmon Sweet Potato or Beef Liver Jerky among many other lip-smacking flavors.
However you want to call them: "husk cherries, gooseberries or ground cherries" get this sweet fruit from Allen Farm along with their locally raised honey, cut-stem zinnias, nasturtiums, an assortment of fresh herbs, large purple and oriental eggplant, green peppers, and assorted heirloom tomatoes including sungold and indigo cherry varieties.
Woods Hole Soapworks has sea salt scrub to get rid of rough, caloused skin. Try out these handmade soaps: Orange Patchoulli, Dandelion Goat's Milk and Lilac.
Check out the creative and mouth-watering market special at Wolf Pizza this week: crab, roasted corn, confit cherry tomato, scallions, basil, and shaved Parmesan cheese. They also offer their famous menu of handmade pizzas.
Sample and take home Martha's Vineyard Smokehouse's ever-popular Bluefish…